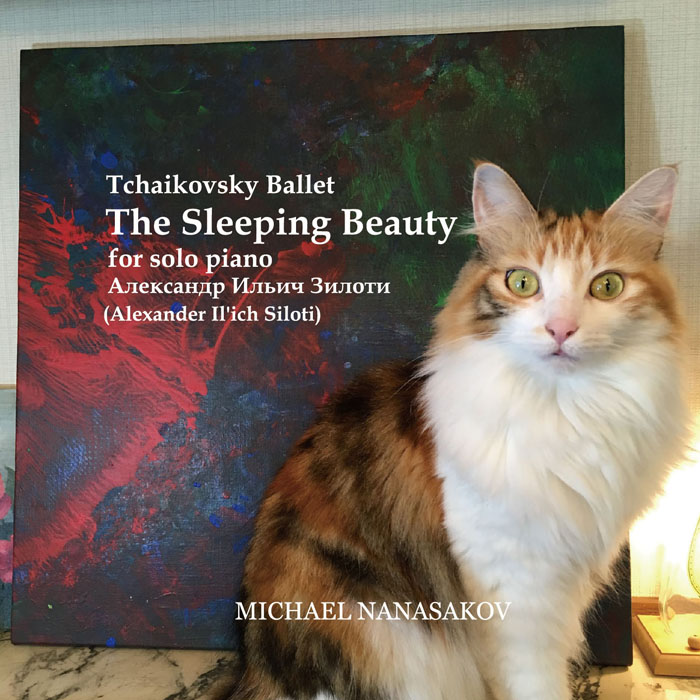 Tchaikovsky Ballet Sleeping Beauty, for solo pianos (2 CDs)
チャイコフスキーのバレエ「眠れる森の美女」のピアノ独奏用編曲版。本CDは原曲の繰り返しを一か所割愛しただけで全曲を収録しており、2枚のCDをどちらも79分58秒に収めるように計算してから録音されている。録音に際して、テンポはゲルギエフを参考にしており決して早すぎはしないが、これをバックに踊るのは大変だろう。ナナサコフによる書き加えも数か所あり、スピード感のある演奏になっている。リストの最後の高弟であったアレクサンドル・ジロティは、チャイコフスキーをピアノ面でサポートした、当時としては大変に有名なピアニストだった。

ジロティの編曲に特徴的なのは、彼自身がヴィルトゥオーゾピアニストであったにもかかわらず、オペラパラフレーズのような独創性の高い編曲や超絶技巧を中心に据えた編曲を残さなかったことだ。バレエ初演前に全編のピアノ版が作成されたという経緯から、おそらくはバレエ練習での用途を意識したのではないかと想像され、編曲も原曲の音を細大漏らさず捉えようとした意図が伺える。しかしそこはリストやニコライ・ルビンシュタインの弟子である。広い跳躍、速い3度のスケールや幅の広い和音を一瞬で掴むことを要求される部分があり、アルカンなどに共通するシンプルながらも高度なメカニカルが要求されている。「三本の手」的な複雑さを嫌っただけで、彼もやはり根はヴィルトゥオーゾなのだと思わされる。
english description

An arrangement of Tchaikovsky's ballet "Sleeping Beauty" for solo piano.
This CD contains the entire piece with only one repetition of the original omitted, and the recording was made after calculating that the two CDs should both fit in 79 minutes and 58 seconds. The tempo is based on Gergiev's and is not too fast, but it must be difficult to dance to it. There are a few additions by Nanasakov, and the performance has a sense of speed. Alexandre Giloti, Liszt's last disciple, was a very famous pianist of his time who supported Tchaikovsky on the piano.

What is characteristic of Giloti's arrangements is that, although he was a virtuoso pianist himself, he did not leave behind highly original arrangements such as operatic paraphrases, nor did he focus on the ultra-extreme. Since the piano version of the entire work was prepared before the ballet premiered, it can be imagined that the arrangement was probably made with ballet rehearsals in mind, and the intention of capturing every detail of the original sound can be seen in the arrangement. However, he is a disciple of Liszt and Nicolai Rubinstein. There are parts that require a quick grasp of wide leaps, fast third-degree scales, and wide chords, requiring a simple yet sophisticated mechanicality common to Alkan and other composers. It seems to me that he is still a virtuoso at heart, just because he disliked the complexity of the "three hands" style.