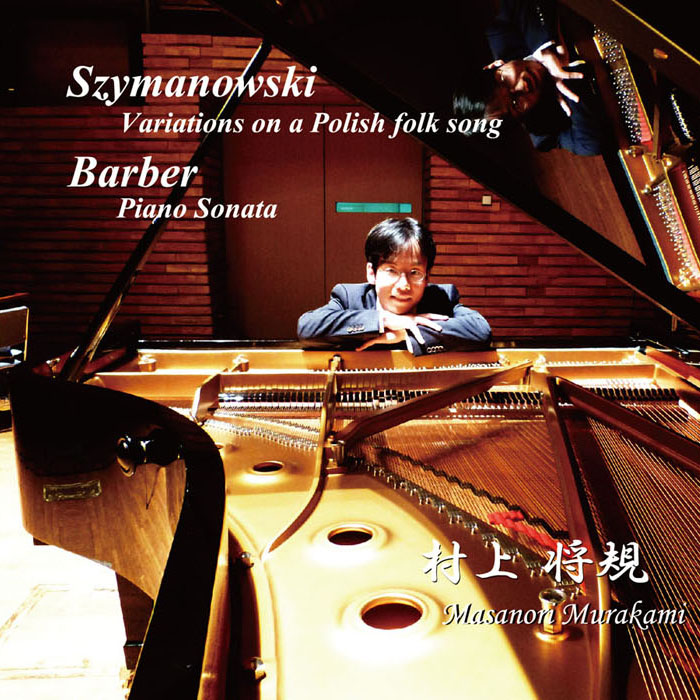 シマノフスキ: ポーランド民謡の主題による変奏曲 作品10
ショパン以降のポーランドで最大の国民的作曲家と言われるシマノフスキ。幻想的な序奏から始まる変奏曲(作品10)は充実した内容で演奏には高度な技術が必要とされ、物悲しく美しい旋律の主題に続き十の変奏から構成されている。一方、バーバーのピアノ曲の中でひときわ光彩を放つ存在であるこのピアノソナタは、アメリカのピアノ音楽の名作であるとともに、ヨーロッパのソナタの伝統をよく踏まえているといわれる。二作品の他にもポンセのインテルメッツォは、物悲しさとほのかな温かさに引き込まれる演奏であり、これらを含む本録音は、ピアニスト村上将規の持つ豊かな描写力と色彩感をいかんなく発揮した好演を楽しむことができる。

1984年 大阪府高槻市生まれ。7歳よりピアノを始める。大学進学の際に音楽を専門に学ぶことを目指したこともあるが、バイオサイエンスにも興味があったため大学はその道を選択。立命館大学化学生物工学科、同大学院では情報理工学を専攻しつつ音楽も学ぶ、いわゆる"アマチュア"としての道を歩むことになる。

日本における様々なコンクールでの優勝をはじめ、大学在学中にフランスで行われた第18 回国際グランドアマチュアピアノコンクールで日本人史上3人目として優勝し、CHOPIN (株式会社ショパン)、音楽現代(株式会社 芸術現代社)、ピアノの本(草思社クリエイティブ)、NHK ラジオ大阪など各種メディアに取り上げられる。また、パリのSorbonne大学で、Orchestre de la Garde Republicaine (指揮:Francois Boulanger )とプロコフィエフのピアノ協奏曲第3番を共演。アメリカのワシントンD.C. メキシコ大使館にて行われたWashington International Piano Arts Council (WIPAC)主催のリサイタルはWashington Post にも取り挙げられている。これまでにイギリス、中国、ドイツなどでコンサートを行い、いずれも好評を得ている。

現在は臨床開発職で新薬開発の仕事に携わる傍ら、アマチュアピアニストとして国内外問わずコンサート活動を行っている。
english description

 Szymanowski is considered the greatest Polish national composer since Chopin. The Variations (Op. 10), which begins with a fantastical introduction, is a substantial work that requires a high level of skill to perform, and consists of a sad and beautiful melodic theme followed by ten variations. On the other hand, Barber's Sonata for Piano, which stands out among his piano works, is not only a masterpiece of American piano music, but is also said to be well in the tradition of European sonatas. In addition to the two works, Ponce's Intermezzo is a performance that draws you in with its sadness and subtle warmth, and this recording, which includes these works, offers a fine performance that shows off pianist Masanori Murakami's rich descriptive ability and sense of color to the fullest.

 Born in 1984 in Takatsuki City, Osaka Prefecture, Murakami began playing the piano at the age of 7. He once intended to specialize in music when he entered university, but chose that path for college because he was also interested in bioscience. He studied at Ritsumeikan University, Department of Chemical and Biological Engineering, and at the graduate school of Ritsumeikan University, where he majored in Information Science and Technology, while also studying music.

 He has won various competitions in Japan, and while still a university student, he became the third Japanese in history to win the 18th International Grand Amateur Piano Competition in France, and has been featured in various media, including CHOPIN, Ongaku Gendai (Art Gendai-sha Co., Ltd.), Piano Book (Soshisha Creative), and NHK Radio Osaka. He has been featured in various media such as CHOPIN (Chopin Co., Ltd.), Ongaku Gendai (Art Gendai-sha Co., Ltd.), Piano Book (Soshisha Creative) and NHK Radio Osaka. She also performed Prokofiev's Piano Concerto No. 3 with the Orchestre de la Garde Republicaine (conducted by Francois Boulanger) at the University of Sorbonne in Paris. His recital at the Embassy of Mexico in Washington D.C., U.S.A., sponsored by the Washington International Piano Arts Council (WIPAC), was featured in the Washington Post. He has given concerts in the U.K., China, and Germany, all to favorable reviews.

 Currently, while working in the clinical development of new drugs, he also performs as an amateur pianist both in Japan and abroad.